Level 2 Diploma in Esports
The Esport industry is a fast-growing global industry. Whether you're passionate about the computer programing, games industry or working in a global business. This qualification includes a breadth of transferable skills that enable learners to experience Esports in different areas to aid their progression to employment, directly or via further study. provides an opportunity for alignment of social, physical, mental and financial skills to deepen and expand learning, skills which are highly valued in the changing and fluid workplace.

Learners must apply strategy, skill and teamwork to be successful. The qualification is aimed at learners who are looking to progress to further education. The qualification also provides progression to Level 3 qualifications.
Course Information
Esports (electronic sports) is competitive video gaming. Tournaments usually
involve amateur or professional gamers competing against one another. We can
prepare you for a career in Esports.
This one-year full-time course provides an in-depth study of the sector,
supporting Progression to Level 3 and employment in key areas of the industry
such as Coaching, Health and Fitness in the Esports industry, Enterprise and
Creativity, Leadership, Entrepreneurship, Esports Events, Practical Gaming,
Gaming Citizenship, Personal and Professional Development, along with an
understanding and appreciation of the positive benefits of Esports.
These include the development of teamwork, communication, leadership skills,
confidence building, decision-making, reaction times, reading comprehension
skills, cyber skills, dexterity and concentration.
We have excellent facilities that are tailored to the development of Esport,
Enterprise and Entrepreneurship including a dedicated Esports Area and a
state-of-the-art classroom environment that provides a unique experience for you
to get a feel for business expectations within the industry. There is also the
opportunity to be involved in our Esports teams which competes in the British
Esports Association Championships.
Developed in close conjunction with leading employers, the BTEC Level 2
Diploma in Esports develops transferable workplace skills, such as good
communication and the ability to work in a team, which employers have identified
as essential for gaining employment in the sector and for progression once the
learner is working.
At the core of this qualification is the concept of preparing young people
for the working world. Through practical activities and occupationally
fit-for-purpose assessments, learners will gain the skills and behaviours needed
for sustainable employment.
It is aimed at students who are taking a study
programme that is engaging and stimulating, which prepares them for successful
performance in working life and progression into employment or further study, by
developing a range of essential skills, techniques and attitudes., apply
strategy, skill and team to be successfulIt provides an opportunity to deepen
and expand learning, skills which are highly valued in the changing and fluid
workplace.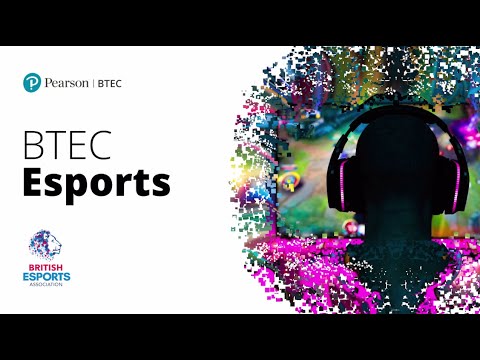 Gallery
Who is this course for?
Ambitious 16-19 years old or adults who are looking to progress to further education; as well as anyone who wants the opportunity to study esports alongside a broad range of L2 qualifications, such as English, Mathematics and to develop key creative digital, computing and technical skills identified by many employers.
The qualification is endorsed by The British Esports Association as an introduction to Esports.
Units / Modules
The content of this qualification has been developed in consultation with key stakeholders. This ensures that the content is appropriate and consistent with current industry practice to enable learners to enter the further study.
Unit 1: Esports Games, Teams and Tournaments
Unit 2: Establishing an Esports Organisation.
Unit 3: Streaming for Esports
Unit 4: Plan an Esports Event.
Unit 5: Start an Enterprise in Esports
Unit 6: Design an Esports Game
Benefits / Skills
Develop STEM skills needed for the industry, such as problem-solving, creative thinking, communication, data-driven decisions, intellectual curiosity, flexibility and collaboration
Gain industry skills through exciting and live project work
Insight into how computer games are developed, with a strong emphasis on the technical side of computer game development
Learn in a state-of-the-art environment at our new Quarry Hill campus
Assessment Types
Units 1, 2 and 3 are assignment-based assessments. Unit 4 is an internal synoptic in which learners must develop an esports brand. In completing this synoptic unit, learners will study how to develop a plan for an esports event, pitch the plan to an audience and use feedback to revise their plan. All units are graded at pass, merit and distinction.
This qualification has no external exams.
Entry Requirements
4 GCSEs at Grade 3 or above, including English or Maths
Career Progression
Progress to Level 3 qualifications, for example, BTEC National in esports, Information Technology, Creative Media, Sport,Diploma in Business or L3 Extended Certificate in Marketing
Enter employment in the business sector
Progress to an apprenticeship in the related sector, for example, in events, digital marketing or creative media for example.
Course Details
Duration
1 Years
Study Type
Full time
Start Date
17/09/2023
Course Code
76757-01
Course Fee (16-18)
No fee
Course Facts
The 1-year study programme, where 100% of study is based in a classroom environment.