Esports Level 3 Foundation Diploma
BTEC Level 3 Extended Diploma in Esports is a 2 year course, equivalent to three A-levels. It is defined as organised competitive gaming, which is human versus human, either as individuals or in teams. Learn a range of skills from various disciplines including - sports, creative industries, business & enterprise, marketing, event management and social platforms. Explore the gaming industry, design your own games, manage events, use IT skills to create promotional and marketing strategies.

More about STEM
Course Information
The world of competitive video gaming known as Esports is a fast-growing
international global phenomenon where it is expected to grow and have a net
value of around £1.4 billion by 2022. The qualification includes a diverse range
of transferable skills that enable learners to experience different areas of
esports to aid their progression to employment, either directly or via further
study. Esports offers a unique opportunity to study a sector that crosses over
multiple subject areas such as sport, business, marketing, events, enterprise,
IT and the creative industries. It provides an opportunity for the combination
of social, physical, mental and financial skills into one qualification to
deepen and expand learning, allowing various career opportunities.There is also
the opportunity to be involved in the Esports Academy which competes in the
British Esports Association Championships.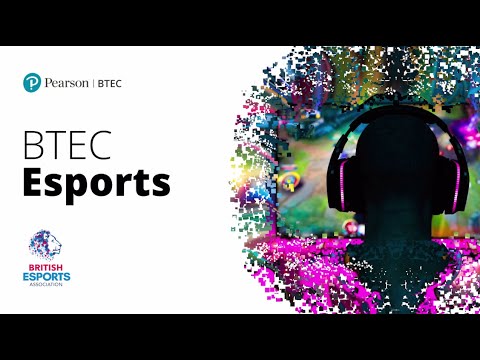 WHAT IS ESPORTS?
Esports is the term used for competitive gaming in a professional setting
such as internationally recognised tournaments or championships.
According to the British Esports Associations Championships website "Esports
is different from standard video gaming in that esports is competitive
(human-vs-human) and usually has an engaging spectator element to it, like
traditional sports. Tournaments usually consist of amateur or professional
gamers competing against one another for a cash prize. Think of esports as
competitive video gaming where skill and professionalism is celebrated. The pro
gamers who play at this level know the games inside out, much like a
professional footballer or athlete would in their respective fields". You can
read more about it on
their website here.
WHY CHOOSE ESPORTS?
Have you had a passion for competitive gaming but haven't had the opportunity
to go pro? Esports in education is a forward-thinking movement where students
can turn their drive for gaming into a well-established career path. Although it
may seem like a niche course to readers outside of the gaming industry, this
Level 3 Diploma can provide skills and expertise in a wide range of technical
and digital platforms.
Gallery
Who is this course for?
The course is for any individual that has a keen interest in the development of Esports events, including the development of games, event management, marketing, IT, business & enterprise, and the general creative industry.
Units / Modules
Introduction to Esports
Esports Skills, Strategies and Analysis
Enterprise and Entrepreneurship in the Esports Industry
Health, Wellbeing, and Fitness for Esports Players
Producing an Esports Brand
Psychology for Esports Performance
Game Design
Business Applications of Esports in Social Media
Live-streamed Broadcasting
Esports Coaching
Video Production
Computer Networking
Launching Esports Enterprise
Benefits / Skills
Strategic and analytical skills
Entrepreneurial and enterprise skills
Psychology, health and wellbeing for Esports
Event organisation and management, branding, game design, broadcasting
Business management of Esports within social media platforms.
In addition to this you will become a strong team player equipped with good communication, decision making and leadership skills.
Assessment Types
All assessment for this course is completed via assignments/projects and marked your highly trained professional tutors.
Entry Requirements
A minimum of 4 GCSE's at grade 4 or above including English or Maths. Or 4 GCSE's at grade C or above including English and Maths.
Career Progression
On completion of this course, students may decide to study a higher apprenticeship, continue into higher education or go straight into employment. Thanks to the host of transferable skills developed, the Esports course offers many different pathways to suit all interests.
There is a wide variety of job roles that become accessible within the Esports industry, these include: Professional Gaming, Coaching, Business Management, Journalism and Content Creation, Sales, PR and Marketing, Production, and Product Management to name a few.
WOMEN IN ESPORTS
According to recent studies, 1 in 20 employees in the Esports industry are women and these statistics are on the rise. Ofcom reports show that the number of young women that play video games has increased from 38% in 2018 to 49%. Esports strives to be fully inclusive and aims to encourage more women to join the competitive gaming industry. This includes campaigning to raise awareness of women in Esports and working alongside other organisations to promote these incredible opportunities.
Similar Courses
NVQ Level 3 Diploma in Barbering
Take your barbering skills to the next level with this NVQ diploma. Giving you the skills you need to pursue your dream as an employed or self-employe...
More info
Beauty Therapy Treatments VTCT Diploma Level 3
Take your beauty therapy knowledge to the next level with our Beauty Therapy Treatments course. You will also explore body and stone massage technique...
More info
Theatrical, Special Effects, and Hair and Media Makeup VTCT Level 3 Diploma
Turn up the drama with this creative course. You will learn specialist techniques such as airbrushing, camouflaging, special effects makeup, prostheti...
More info
Jobs in this sector
Live data from the DoE's LMI API
Public relations professionals

Average Salary

£30,160

Future Recruitment

1482

Jobs in the next 3 years.
Course Facts
Esports is a rapidly growing genre within sports and gaming and is forecast to be a £1.8 billion industry by 2022.
Almost any game where players compete can be an Esports game. Pro gaming is a worldwide phenomenon
Esports is an industry that needs talent in addition to gamers