One of the first qualifications of its kind, paving the way for a career in the thriving Esports industry.
Course Information
Esports (Electronic Sports) is a fast-growing international phenomenon - and by studying a course in competitive video gaming, individuals will prepare themselves for exciting roles within this sector. Not only that, they'll gain key transferable skills for opportunities in other subject areas - including sport, marketing, creative media and IT. The course is ideal for school leavers and adults who want to take their love of gaming further and even have the opportunity to be part of the Esports Academy, which competes in the British Esports Association Championships.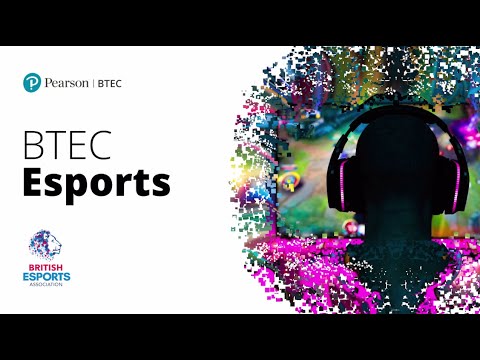 WHAT IS ESPORTS?
Esports is the term used for competitive gaming in a professional setting such as internationally recognised tournaments or championships.
According to the British Esports Associations Championships website "Esports is different from standard video gaming in that esports is competitive (human-vs-human) and usually has an engaging spectator element to it, like traditional sports. Tournaments usually consist of amateur or professional gamers competing against one another for a cash prize. Think of esports as competitive video gaming where skill and professionalism is celebrated. The pro gamers who play at this level know the games inside out, much like a professional footballer or athlete would in their respective fields". You can read more about it on their website here.
WHY CHOOSE ESPORTS?
Have you had a passion for competitive gaming but haven't had the opportunity to go pro? Esports in education is a forward-thinking movement where students can turn their drive for gaming into a well-established career path. Although it may seem like a niche course to readers outside of the gaming industry, this Level 3 Diploma can provide skills and expertise in a wide range of technical and digital platforms.
Gallery
Units / Modules
Students will gain strategic, analytical, entrepreneurial and enterprise skills by studying. This Level 3 Diploma course will explore more than the gaming aspect of Esports, this course will also focus on teaching students about Business, Enterprise, Psychology and much more:
Health & Safety and Wellbeing for Esports
Event Organisation and Management
Branding and Game Design
Business Management of Esports on Social Media Platforms
Psychology
Business
They will also benefit from challenging tournaments, helping them develop their confidence and industry knowledge.
Entry Requirements
Four GCSEs at grade 4 or above, including English or maths.
Career Progression
On completion of this course, students may decide to study a higher apprenticeship, continue into higher education or go straight into employment. Thanks to the host of transferable skills developed, the Esports course offers many different pathways to suit all interests.
There is a wide variety of job roles that become accessible within the Esports industry, these include: Professional Gaming, Coaching, Business Management, Journalism and Content Creation, Sales, PR and Marketing, Production, and Product Management to name a few.
WOMEN IN ESPORTS
According to recent studies, 1 in 20 employees in the Esports industry are women and these statistics are on the rise. Ofcom reports show that the number of young women that play video games has increased from 38% in 2018 to 49%. Esports strives to be fully inclusive and aims to encourage more women to join the competitive gaming industry. This includes campaigning to raise awareness of women in Esports and working alongside other organisations to promote these incredible opportunities.
Similar Courses
Theatrical, Special Effects, and Hair and Media Makeup VTCT Level 3 Diploma
Turn up the drama with this creative course. You will learn specialist techniques such as airbrushing, camouflaging, special effects makeup, prostheti...
More info
Hair and Media Makeup VTCT Diploma Level 2
Let your imagination run wild with this innovative course. You will work alongside a professional photographer to build up an industry-ready portfolio...
More info
Beauty Therapy Treatments VTCT Diploma Level 3
Take your beauty therapy knowledge to the next level with our Beauty Therapy Treatments course. You will also explore body and stone massage technique...
More info